How to Setup WooCommerce
Setup Woocommerce
The most utilized plugin for WordPress eCommerce websites is WooCommerce. If you are running a store or have your own digital products if you set up WooCommerce, it is pretty easy for you to get started and maintaining, and if you want to expand it, it has lots of extensions.
Though it's relatively simple compared to many other available solutions, WooCommerce needs to be configured to perform every function precisely. A few pages must be set up for the whole buying process to work correctly. This example will reveal how you can turn your WordPress website into a fully functional web shop.
After installing the plugin, it usually creates the necessary pages. But sometimes issues like a conflict with the theme or any of the other plugins arise and those pages don't get created automatically. In this situation, you have to set up the WooCommerce pages yourself. Otherwise, your store won't be operational, and buyers won't be able to purchase. These are the most relevant pages you must have, to get WooCommerce up and running properly.
Cart: When a visitor clicks add to cart on a product it's gets added to the shopping cart. Every product he wants to acquire first goes to the shopping cart. You can conceive of the cart like the basket or trolley we use at supermarkets to put all the products in it. When the buyers go to the shopping cart page, it will show all the goods they added in the cart and from there they could remove it if they want and increase or decrease the quantity of each item.
Checkout: This is the final step of the purchase, and is where the customer input the payment details and pay for the goods. Similar to the cash counter at real stores, it works the same way. The buyers, if given a choice, can choose from multiple payment options. If you want, you can use a coupon code field on this page as well.
My account: This page is the account page of a buyer and isn't strictly necessary for the store to be fully operational, but having this page is the usual way of doing it. This page makes it much easier for buyers to check their previous orders and keep track of their info.
Having the cart and checkout pages is necessary. If your store's shopping cart and checkout buttons don't work, it is a need to check if these pages are present from the 'All Pages' tab and if you can't see these pages you have to create them. Now setting these pages up isn't that complex, and you don't have to be a code wizard to do this. To guide you through how to configure the WooCommerce pages, I have made a step by step guide. Just follow it, and you will have them done in no time.
Setup Woothemes Cart:
Click 'Add New' under Pages tab. Give a page title and paste '[woocommerce_cart]' on it. Don't copy the inverted commas, just from one bracket to the other. Then click publish.
Checkout: 
Similar to the last step create a new page and paste '[woocommerce_checkout]' without the inverted commas. Next, just click publish.
My account: 
As it was with the earlier step go to 'Add New' under Pages and paste '[woocommerce_my_account]' and click publish.
Now that you have these pages created you just have to point to them from the WooCommerce settings. It's easy, and you just have to follow these steps:
First, go to 'Settings' tab under WooCommerce and click 'Checkout.'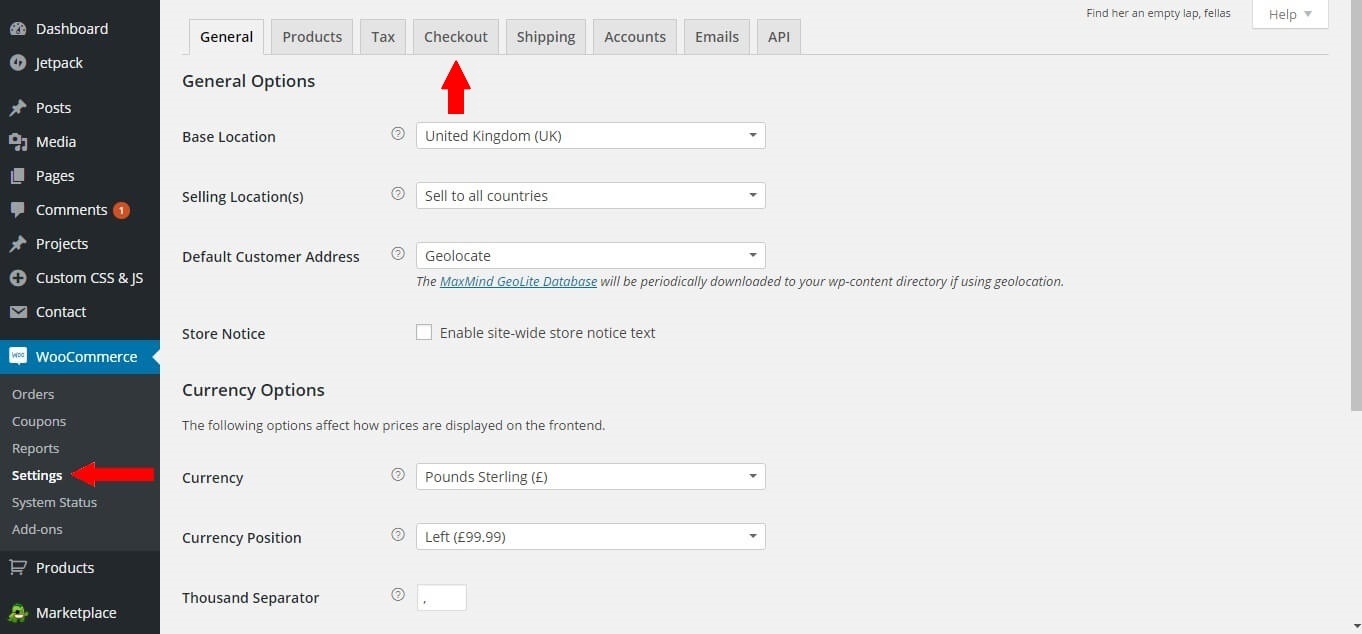 Next step is to scroll down, and you will see the 'Cart Page' and 'Checkout' fields just under 'Checkout Pages.' Then Select the pages you created earlier on both fields, scroll down and click 'Save changes.'

Finally, we need to The final step is to go to the 'Accounts' tab, in the 'My Account Page' field select the page you created in the previous steps, that is the account page.
Don't have the payment methods set up yet? Do it from 'Checkout Options' which is on the 'Checkout' tab.
When you have done these steps, you should be able to set up woocommerce pages without any extra trouble correctly. Now you just need to add products and they are finally ready to be sold!